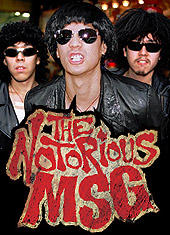 Tien Mao over at the Gothamist interviewed The Notorious MSG, a trio of Asian bad-boys who pack heat in their pants and deliver funky beats and Chinese food eats.
The interview is a bit goofy, but it's full of some funny stuff, like this:
Names, ages, where are you from, and where do you live now?
In 1993, we all left the ghettos of Asia to come to New York City's Chinatown. We came here with a dream. And that dream is to blow-out people's asses with our hot n' spicy music. We recommend you clench your cheeks 'cuz it's gonna hurt.

We are:
Hong Kong Fever, 25 Hometown: Kowloon Bay, Hong Kong
Down-Lo Mein, 24. Hometown: Ping-Tung, Taiwan
The Hunan Bomb, 23 Hometown: Inchon, South Korea
If you're intrigued, check out their official site (sadly, it's a Flash monstrosity) or their MySpace page which has some of their songs and videos.
Tags:
music,
ghetto,
chinatown