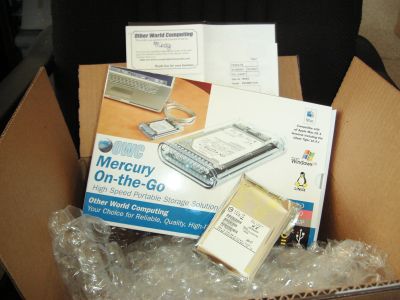 My poor Dell laptop has been surviving with less than 2 GB free out of its 40GB disk for months. I've tried to trim things down, deleting whatever I could and archiving the rest to DVDs. But, this nonsensical activity is nothing more than diminishing returns: the space will get used up again and the time, effort and aggravation of having to identify things to remove is so not worth it. So, for a mere $219, I'll be adding an additional 100 GB capacity. What's not to love?
In case you were wondering what that beautiful enclosure is in the picture, it's an OWC Mercury On-the-Go (OWCMOTG800U2), $79.99. It's a FireWire 800 and USB 2.0 enclosure for 2.5″ PATA HDDs. It's a transparent plastic enclosure, for maximum geek value–yes, it's sexy to show off what you've got inside the enclosure.
Two snags: my laptop's crappy USB 1.1 isn't studly enough to bus-power the drive and enclosure, so I need to now go and order the (not included!) OWC Mercury On-The-Go AC Power Adapter (OWCMOTGPWR), $9.95. Also, I need to get a FireWire 800 1394B 9-pin to FireWire 400 1394A 6-pin cable, too. So much for "immediate gratification" … grr!
Tags:
computer hardware,
geek,
enclosure,
FireWire,
USB