Last night, with the aid of babysitting, we were able to go out. But, what to do? My wife is happy to go out to see a movie, which is like two hours of brain-death for me. So, since she left it up to me to arrange the evening, I decided to look for places with an open mic. night on Tuesdays. One place, Holy Grounds Coffee Lounge in Allendale, NJ, caught my eye. They advertised an open mic. night "every other Tuesday" … but didn't mention which Tuesday started the cycle (sigh).

Still, the place sounded promising even if there were no live entertainment this Tuesday. We headed over to Allendale to check it out. We found the place okay; it's right in the middle of town on West Allendale Ave. by the "big clock" in the middle of the street. We went in, asking about the food selection since we still needed to eat dinner. No surprise, the deserts looked fantastic and the only real "food" were a bunch of premade panini sandwiches. We decided to take our chances and left, walking up and down the street looking for places to eat.
We took a quick detour into a liquor store to check out their offerings and the helpful folks behind the counter mentioned the existance of, what they claimed, was an excellent sushi place in the adjacent building over. We both love sushi and the only other alternatives seemed to be Italian restaurants, which are a dime a dozen in Northern Jersey. But, I'm always wary when people claim that "this sushi place is excellent!" because, well, frankly, they usually aren't. Northern Jersey is plagued with a particular problem: most "sushi" places are Korean owned and operated, and I hate to say it, but your average Korean has no clue what good sushi is, but it's usually quite passable to your average white person's palate. But, we needed to eat and, hey, who knows, right?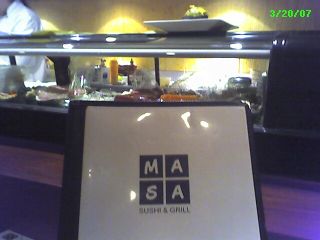 (Click to enlarge.)
Hot damn. The place is called Masa Sushi & Grill, also on West Allendale Ave., almost across the street from Holy Grounds. Don't let their pathetic looking website fool you: this place is the real deal. In general, I have a short list for qualifying a good sushi place:
The sushi chefs speak Japanese.
There are a non-trivial number of Asian people who eat there.
Now, if you don't know Japanese, it may be hard for you to know if the sushi chef's are speaking Japanese. They might be Koreans, speaking in Korean. But, fortunately, I know enough Japanese to know what they're speaking behind the counter.
If you go outside normal mealtimes, there may not be many people eating there, so the second item may not be of much use. Since we were there at 7:00 PM, there were a bunch of people already there–and most of them were Japanese! Even better, there were a few Japanese salariman there, reading their papers and eating their dinner. I knew we were in for some good sushi.
Now, one thing I developed a taste for growing up is natto, a very signature Japanese food made from fermented soybeans. I introduced my wife to it, who couldn't stand it at first, but now she asks for it more than I do! So, when she goes to a sushi place, even if it's not on the menu–as was the case at Masa Sushi–she'll ask for it. Again, a good sign that this place was the real thing, they were quick to answer that, yes, they had natto! We started our evening sharing a bowl of natto, together.
Another taste I developed growing up is for uni, or sea urchin. Again, for many, this is an acquired taste, and ordering it in sushi places is often very hit or miss. Given how expensive it is, it's painful to risk paying the high prices for less than excellent uni. Considering this place had been passing all my tests with flying colors, I looked at the uni in the sushi counter and it looked good. I decided to order two pieces of uni and it was as good as I expected.
If you think you know good sushi when you eat it, perhaps you want to avoid this place. It could ruin your perception of all those other "good" sushi places that you like to eat at, which may very likely pale in comparison to the high standards that Masa Sushi achieves. By 8:00 PM on a Tuesday night, this place was packed full of Japanese people–salariman, families with young children and couples like us. This place is no joke.
After our fantastic sushi dinner, we stumbled happily back across the street to Holy Grounds, where my wife ordered a pecan pie for dessert–one of her favorites–which she said was also excellent. We relaxed while we enjoyed our drinks, as I flipped through a copy of a New International Version bible they have out. In it, I came across this passage from Matthew 6:25-34 which is was so apropos:
Do Not Worry

25"Therefore I tell you, do not worry about your life, what you will eat or drink; or about your body, what you will wear. Is not life more important than food, and the body more important than clothes? 26Look at the birds of the air; they do not sow or reap or store away in barns, and yet your heavenly Father feeds them. Are you not much more valuable than they? 27Who of you by worrying can add a single hour to his life?

28"And why do you worry about clothes? See how the lilies of the field grow. They do not labor or spin. 29Yet I tell you that not even Solomon in all his splendor was dressed like one of these. 30If that is how God clothes the grass of the field, which is here today and tomorrow is thrown into the fire, will he not much more clothe you, O you of little faith? 31So do not worry, saying, 'What shall we eat?' or 'What shall we drink?' or 'What shall we wear?' 32For the pagans run after all these things, and your heavenly Father knows that you need them. 33But seek first his kingdom and his righteousness, and all these things will be given to you as well. 34Therefore do not worry about tomorrow, for tomorrow will worry about itself. Each day has enough trouble of its own.
Indeed, tomorrow will worry about itself, but for last night, we enjoyed ourselves and had a wonderful evening.