I haven't posted anything new for the last two weeks because I've been incredibly busy. After our week of vacation in the Poconos back in August, we also went on a week of vacation to the Club Ocean Villas II in Ocean City, Maryland from September 17th through the 24th. The past week was spent recovering from our vacations (phew!) and getting back on track with life schedules and catching up with work. Throw in a quiet celebration of our sixth wedding anniversary and you can see why I haven't had a chance to post until now.
We spent the week down in Ocean City, Maryland, in a timeshare called the Club Ocean Villas II, which is located at 105 120th Street in Ocean City, on the bay side. Our unit, #271, was on the "water" side, which meant we had to park the car and walk around the building to a little wooden boardwalk with no railings to get to the stairs up to our suite. Needless to say, having two very spirited and fearless young girls walking along what felt like a six foot wide boardwalk next to open water with no railings made me nervous, but they survived and we didn't have to fish anyone out, not even once. The unit had its own private hot tub, which the girls enjoyed swimming around in when we weren't at the beach or relaxing inside. (Yes, I know, I'm in trouble — even at this early age, my girls have a fine appreciation for hot tubbing. God, help me.)
I have to say, taking a beach vacation in September after school has resumed was a great strategy. We drove all the way down to the end of the Garden State Parkway to the Cape May/Lewes Ferry on a Saturday morning, making great time (took us just around three hours). It was great fun to ride this big boat for an hour, stretch our legs, and have some ice cream while we looked out across the water. Then, it took us another hour to drive from Lewes, Delaware, down to Ocean City, Maryland. I can't imagine how grueling this drive must be in the heat of the summer with miles of traffic backing up all over the place, but at the end of September, it was a pleasant ride.
We spent a lot of time on the beach with the girls playing in the sand and splashing in the ocean. Luckily, the girls have my complexion so they tan rather than sunburn, but my wife — oh, does she burn — the first day at the beach, with no sunblock, turned her a nice shade of red lobster. We also decided to go to an amusement park called Baja Amusements (excuse their horrible Flash-based website, I'm just linking to it for posterity's sake) on the other side of the Route 50 bridge towards Assateague Island. Speaking of Assateague Island, we also drove out there one day and saw the wild horses, which is special because we have a book about the "Assateague ponies" that we've been reading to the girls at bedtime for a while now, so it was nice to actually show them the place that the book is about.
Anyone who knows me well enough knows that I really don't care for sightseeing. When I vacation, I vacation with my stomach — it's all about the food. We went to the Embers restaurant for dinner one night, enjoying their all-you-can-eat seafood and prime rib buffet. Nothing like filling yourself up with mounds of snow crab legs and a hunk of beef. But, the best meal we had all week was had at Nick's House of Ribs where we had a full rack of ribs and a steak. The girls really love their ribs; you can tell by the amount of barbequeue sauce they wear on their faces when they're done. The food at Nick's was fantastic, and Geoff, our server with the deep Keanu Reeves-like surfer voice, actually provided us the kind of speedy service that reminded us of New Jersey. (Oh, you never realize how spoiled you are about the speed of service you get in New Jersey until you leave it behind. You grow old waiting around at restaurants in Maryland.)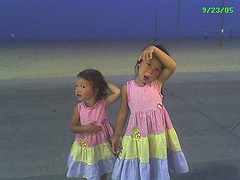 Here's a quick snap of the girls striking a pose on the boardwalk in Ocean City towards the end of our trip. The wife filled her craving for funnel cake — of course, the girls indulged themselves with only the powdered sugar on top. No sugar binge is complete without cotton candy, too. It turns out that Suzie (the younger daughter) really likes the Cup and Saucer carnival ride they had set up. She refers to it as the "cup and teapot" because she rides in a cup and there's a big teapot in the center of the ride. I don't know if she's going to be as much of an adrenaline junkie as her older sister.
As you can tell, it was a very fun-filled week. No, it was jam-packed with fun and we were constantly on the move. We were thoroughly worn out by the end, ready to head home. I think we'll definitely be going back to Ocean City again for a future family vacation.