This past Sunday, my wife invited over several of her South African ex-pat friends over for a Mother's Day braai at our house. There were lots of kids here, I lost count around 12, running around our yard and in our house. There was lots of food and excellent wines being passed around. One really captured my wife's attention, a very sweet and fruity white wine. So much so, that she's kept the bottle and given it to me telling me to go find some more of it.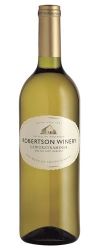 The wine is the Robertson Winery Gewürztraminer Special Late Harvest 2004 (link). It's a South African wine made by the fairly young Robertson Winery (Est. 1941). This white wine is very sweet and fruity, with sugar at harvest at 244 g/L and a residual sugar of 47.4 g/L, according to the label. I'm no experienced wine snob, but it sure was a tasty wine.
So my next challenge is: contact one of their distributors in New Jersey and see how I can get some more of this stuff.
Have you ever had this wine, or any of the other Robertson Winery wines? What did you think of them? Share your thoughts in the comments below!
Tags:
South Africa,
wine,
Robertson Winery,
gewurztraminer