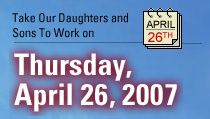 It's Take Our Daughters and Sons to Work day today, April 26, 2007. It's a great idea, but what if you're like me, working 100% telecommute, from home?
Me: "Come here, kids, let me show you the home office!"
Kids: "Yes, Dad, we've seen it plenty of times. All you do is sit in there in front of the computer."
I guess this is an aspect about working in an office that I do miss, sometimes.