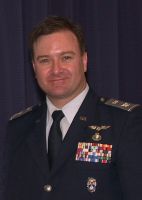 I'm busy working this weekend, but my wife and children are down in Delaware in support of my brother-in-law, Russell. Tomorrow, he will be stepping down from his position as Wing Commander of the Delware Wing of the Civil Air Patrol (CAP).
Over the years, he has volunteered an enormous amount of time and effort to the organization. He has received a number of awards–most recently the Daily Point of Light No. 3547 from the Points of Light Foundation, which goes into greater detail about Russell's accomplishments.
It takes a very special person to give so much of himself as Russell has. The CAP is a valuable organization and has benefitted greatly from his contributions. Through his generosity, all our lives have been affected for the better.
Even though I can't be there tomorrow for your Wing Change of Command ceremony, congratulations and thanks for everything you've done and continue to do.
Tags: Delaware, Civil Air Patrol, Russell Opland