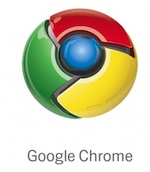 I've been using nightly development builds of Google Chrome for Mac, Google's shiny new web browser, for a while now. A few days ago, it was officially labeled beta for Mac. Until now, I wasn't using it regularly, but I decided I should try using it full-time for a few days to see how it wears.
I've got 12+ tabs open and it's still fast, smooth and stable. Granted, on the Mac there's no extensions/add-on feature … it'll be interesting to see how stable things remain once those are introduced. The browser's rendering of most pages seems identical to Firefox, except for a few that I've stumbled across. Overall, it's a very usable browser and should have a great future ahead of it.
Of course, there's still a few bumps and warts that I hope they'll address soon:
Needs to be more customizable. For me, this could be as simple as providing an about:config interface like Firefox. Let me easily tweak and turn the various knobs that control stuff under the hood. My biggest gripe is not being able to completely remove the "close tab" button on the tabs. In trying to switch tabs, I'm constantly accidentally clicking the "x" which closes the tab. Sure, Cmd-Shift-T re-opens the tab, but that's a nuisance that could easily be avoided by removing the "close tab" bit like I have done in Firefox.
Smart keywords. I pretty much live in my web browser and the Address Bar is my command-line interface to the web. I have smart keywords defined for all manners of things, and switching to Chrome that lacks them is very painful. I'd say that this is a must-have feature before I would switch completely.
Third-party add-ons and extensions. I can live without most of the niceties that add-ons bring, but there are a few that I would hate to do without:

It's All Text! Edit any TEXTAREA in an external editor. For the average web user, this probably wouldn't be that useful, but for me, it makes editing code blocks and other large text in web-based CMS'es tolerable.
Greasemonkey. There's nothing like the ability to "fix" a "broken" website, removing annoying "features" or adding a missing one. While I could probably get by without Greasemonkey, I don't know if I'd really want to.
Have you tried out Google Chrome, yet? I'd like to know what you think … let me know in the comments below.