So, I finally let the cat out of the bag a few minutes ago and announced Twitter Karma publically.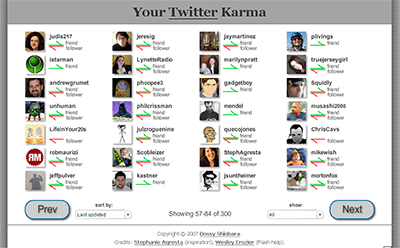 So, what is it? The other day, @StephAgresta said, "Twitter desperately needs page navigation on followers / following list. Also sort functionality by type (reciprocated or not) is a must." I suggested a simple mashup that implements this and started hacking on it. Three days later, it has enough functionality that Stephanie said she thinks I should release it publically.
Basically, it's a Flash application that fetches your friends and followers from Twitter when you click the "Whack!" button, then displays them for you, letting you quickly paginate through them. By default, the list contains all your friends and followers and is sorted by last update, showing those who most recently updated first. You can sort the list alphabetically either ascending or descending by Twitter ID. You can filter the list in several ways: only friends or only followers, all friends or all followers, and mutual friends.
It's not meant to be a full Twitter client–there's plenty of those already and that's not a particularly interesting or challenging problem to solve, anyway. I'll be adding a few more features to Twitter Karma soon, though. If you think you have a must-have feature idea, go ahead and let me know about it in the comments.
Tags: Twitter Karma, Flash