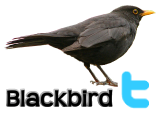 About a week ago, I mentioned on Twitter that I was working on a Twitter client for BlackBerry smartphones called Blackbird.
After an initial limited release to a few people, I think it's ready for general use. I've already stopped using TwitterBerry and TinyTwitter, now exclusively using Blackbird and I don't miss a thing.
If you have a BlackBerry and are a Twitter user, I'd love it if you'd go and install Blackbird and let me know what you think! It's still fairly new and it's my first BlackBerry application, so I'm sure there's lots of ways I can improve it.
Tags: BlackBerry, Twitter, Blackbird