Yesterday, Maki asked on Twitter, "I would love to have a 'Quick unsubscribe' button for Google Reader…a greasemonkey script would be terrific. Anyone wanna do one?" Of course, it seems I have a thing for hacking out little web toys for people I know on Twitter, so I gave it a whack. Here's the result:
Here's a screenshot showing what it does: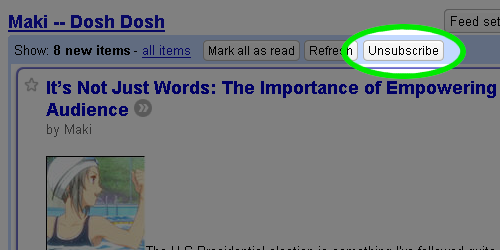 It's a pretty simple script. The hardest part was reverse-engineering Google Reader's packed/minified JavaScript, but that wasn't too hard.
Do you have a useful idea for a web toy? Perhaps if you run it by me and it interests me, I'll hack on it for you, too.
Tags: Google Reader, Greasemonkey, scripting, hacks