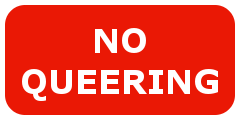 "NO QUEERING" … yeah, how would you feel if you saw this sign as you walked into a restaurant? Whether you're gay or straight, it would probably strike you as questionable to say the least. It's discrimination, right? But, what about when you see this sign: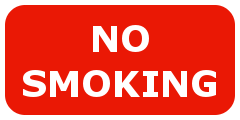 You probably see these things all over the place and probably think nothing of them. Even if you're a smoker, you just accept and generally obey these offensive things. Why doesn't seeing one of these signs make you uncomfortable, then?
Before you jump on my case about the fact that smokers aren't a protected class in the United States while homosexuals are, lets remind ourselves that fat people aren't a protected class, either. How would you feel if you saw this sign up at a restaurant: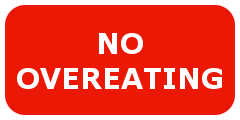 One could argue that the restaurant is trying to discourage folks from engaging in unhealthy activities which could lead to serious negative health effects like obesity, increased risk of heart disease, and early death. Also, they might be trying to create a more pleasant atmosphere for the other patrons–you know, it's an unpleasant sight watching someone eat themselves into a food coma as part of their 6,000-plus-calorie-per-day diet. Yet, if a sign like this went up, there'd be no end of people complaining about how insensitive or offensive it is, or how businesses nor government should have this much control over how folks choose to fill their bodies.
According to the CDC/NCHS, a rough estimate based on sampling from 2003-2004 suggests that over 32% of U.S. adults are considered obese. Similarly, from the CDC's 2003 data, the national average of smokers is only 22% of the population.
The American Lung Association claims that 438,000 deaths per year may be attributable to smoking-related causes, including second-hand smoke. The Department of Health and Human Services estimates 300,000 deaths per year may be attributable to obesity.
When I'm standing outside in the freezing cold, trying to enjoy my cigarette in peace in the only place left where I can exercise my personal freedoms, I really love it when someone feels the need to come up to me and say "you know, those are bad for you, you should quit." Well, boy-howdy, I'm so sorry your great aunt Ruth died of emphasema or lung cancer and blah, blah blah. Look me in the eye and ask me if I really care. If I was related to someone as intrusive and annoying as you, I'd probably rather be dead, too.
The next time you see some fatass ordering two double-Whoppers with cheese and a large diet soda, you walk right up to them and tell them how your great aunt Ruth died of coronary disease and kidney failure and how they might want to think about quitting overeating–you might just save a life. Or, piss someone the hell off who is likely to be a lot less polite than your average smoker, who will likely tell you to shut the hell up, instead of just nod and smile and let you walk away.
Tags: smoking, obesity, rights