After all the fallout about Thesis, the premium WordPress theme that everyone loved so much, this past July and everyone's mass exodus to the Genesis theme framework by StudioPress, I decided it was time I checked it out for myself.
Right off the bat, I'm pleased that Genesis is GPL'ed, it means I have the freedom to take it and do what I please with it, including building child themes that depend on it, and sell them.
So, how did I decide to give Genesis a try? By converting the theme for my own blog, dossy.org, to use it. Yup, might as well really live and breathe it and see how it wears, right?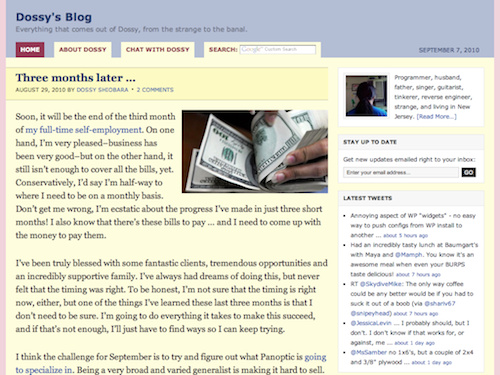 It took me about 2 hours to rewrite my theme using Genesis, which was really pleasant to use and flexible enough to suit my needs. Of course, my theme isn't really elaborate and doesn't have a lot of functionality, but I do have some peculiar bits that weren't hard to reproduce in a way that would fit in with Genesis's way of doing things.
If you're looking to switch from Thesis or otherwise have a custom WP theme built using Genesis, this is definitely a service that Panoptic will now be offering. Lets talk and discuss how I can help you.