Arrived in South Africa safe and sound as well as all our luggage. The kids were freaking awesome–they're really cut out to be world travellers. I even survived the 18 hour stretch without a cigarette, without being all cranky and stuff.
Now, we're at my mother- and father-in-law's house in Victory Park, Gauteng and for now I'm using their ADSL connection. Here's the speedtest.net results: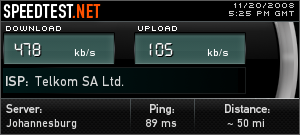 Tomorrow, we head into Cresta Shopping Center so I can pick up a HSPDA/3G card for my MacBook Pro and a few SIM cards for our BlackBerry phones so we can make local calls.
I'm being called downstairs for dinner, but I'll try to fill in some more details when I get a chance.
Tags: family, travel, South Africa