Over the last year, I've accumulated several "one-shot" Visa credit cards in the form of "gift cards" and manufacturer rebates. I decided today would be the day I'd try to spend some of these. I went to one of my favorite online shopping destinations, Amazon.com, picked out some items, and went to go pay with these cards. This should be no big deal, right? Right???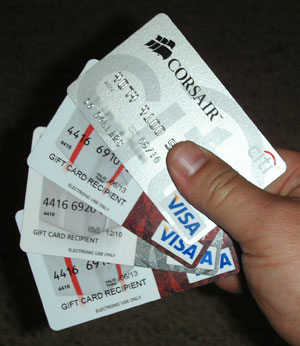 So, I picked out an item that I couldn't pay for with a single gift card. No problem, I'll just tell Amazon to charge two of these cards and that would be that, right? Only, I discover that I can only choose one credit card to pay for the transaction. Ha, ha, this must be a joke, right? It's 2009, you can't expect me to believe that the company that basically pioneered e-commerce hasn't figured out how to implement split billing?
Out of disappointment, I decided to locate the same item on Buy.com, where I discovered that they also only allow you to choose one credit card as payment. I did notice that both Amazon and Buy.com allow you to use multiple site-specific gift certificates to pay for an order, so I decided to work around the problem by ordering a Buy.com gift certificate for $50, the value of one of my Visa gift cards. I chose email fulfillment, figuring that I'd soon receive the necessary information by email to redeem my card and be done.
How can an e-product be "on backorder"?

When I received my order confirmation email from Buy.com, this is what I saw. Try to appreciate the moment of WTF I experienced as I tried to believe what I was reading. An emailed gift certificate was on back-order??! Are you kidding me? What, did they run out of electrons or bytes in the warehouse?
I tried to attribute this to some bug in their order confirmation email process, so I waited for an hour for a second email, which would never arrive, containing the gift certificate. Finally, I gave up and went back to Buy.com and cancelled my order.
Does Amazon.com do any better? I'm not sure. I just noticed this fine print on their gift certificate order page:
* Note: For security purposes, e-mail gift cards and printable gift cards may go under a 24-hour review process while payment information is verified.
I don't know what to do, at this point. Have any of you been in this situation, trying to make a purchase using multiple credit cards? Should I just bite the bullet and purchase these Amazon.com gift certificates and wait 24 hours? Are there any better solutions? Please, help me out, leave me a comment with your best suggestions.