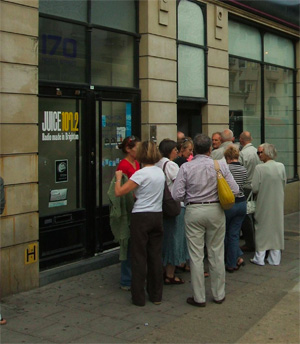 (Flickr: dominicspics)
When I used to do freelance work, I'd focus on getting it done and wrapping it up then moving onto another project. I'd seek out projects that, once complete, had a minimal amount of ongoing maintenance. Basically, once I was done with a project, that was usually the last I'd hear from the client, despite the glowing praise that they'd give me at the end.
In other words: I sucked at sales.
But, how is that possible? I'd find clients, engage them, close the sale and deliver the goods! Sounds like I'm a great salesperson — there's plenty of sales people out there who can't even do this much, right? Sure, I might not be the worst salesperson ever, but I forgot the golden rule of sales.
The first sale doesn't count.
Huh?! "Of course it does," you're probably thinking. "You got their money, why doesn't it count?" Let me explain …
Many years ago, my friend Peter, who I consider to be a master salesperson, when I first started freelancing, let me in on a little secret. He simply told me, "The first sale doesn't count." He went on to explain that anyone, willing to do or say anything, can get just about any qualified lead to buy at least once. However, the cost of new customer acquisition makes this an infeasible, unsustainable way to do business. The real money is in continued sales with existing customers.
I totally ignored this essential rule. Basically, I've been a wage slave, trading hours for dollars, except this time with only myself to blame. I wasn't building a business, I was just earning money. And, for a long time, this was okay, because I had steady income and I had no reason to do things differently.
Now that I'm doing doing this full-time, without the safety net of that steady income, I've spent a lot more time studying what I do, figuring out what's working and what's not. I realized that I have to change the way I operate — the way I do business — and remind myself that the first sale doesn't count.
So, what do I do, then?
I need to focus on improving my up-sell and cross-sell skills. I need to find ways of turning good customers into sources of continuous, incremental revenues. I need to invest my time in creating products that can generate passive income, so I can stop trading hours for dollars. I have to build a network of reliable contacts who I can hire to do the work that doesn't necessarily require my direct involvement.
Sure, this all probably seems very obvious, but it's surprised me how many entrepreneurs and freelancers I've talked to seem to have missed learning this vital lesson, myself included. Perhaps you're making the same mistake, or you've moved past it or avoided it altogether. I'd like to hear your story in the comments below!