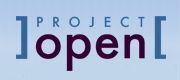 Frank Bergmann emailed me today to let me know that Christof Damian has
created a set of RPMs for all the prerequisites required to run AOLserver 4.5,
OpenACS and ]project-open[. You can
download them from SourceForge as part of the ]project-open[ V3.2 beta release.
What is
]

project-open

[

?

Borrowing directly from their project's website:
]po[ is a Web-based ERP/Project Management software for organizations with 2-200 users. ]po[ integrates areas such as CRM, sales, project planning, project tracking, collaboration, timesheet, invoicing and payments.

]project-open[ is one of the largest open-source based web applications in the world with more then 1,000,000 lines of code. It is used by more then 100 companies in 20 countries to run their businesses.
Frank also tells me that they're hoping to release V3.2 in the May 2007
timeframe. ]project-open[ looks to be quite a capable web application and if you're interested in checking it out, the new packaging for V3.2 should make it much simpler to do so.
Congratulations, Frank and the rest of the ]po[ team! Keep up the awesome work.
Tags:
Frank Bergmann,
]project-open[,
AOLserver,
OpenACS