I was given some good news this Easter: I will take over maintenance of our church's website, The Evangelical Lutheran Church of Our Saviour. Only just over a year ago, on December 11, 2005, I was baptized, and since then I've been playing guitar with the Sunday school kids and now I'm taking on the responsibility of the website.
I've moved all the site content into a WordPress setup. This should make it easier for me to keep it up to date and possibly enlist the help of other folks to add and update content on it. Here's a screenshot of what the site looks like today, now that the new site is live: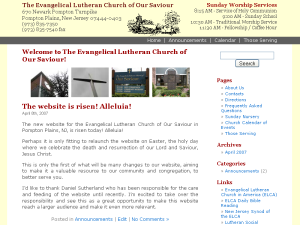 I may be biased, but I'd suggest if you're looking for a Lutheran church in the area, do come visit us! All the information you need is available, right there on the website. If there's something you can't find, just ask.