(Disclaimer: I'm not an appliance repair technician, just a homeowner with an expensive appliance.)
We have a pair of stacked Bosch washer and dryer appliances, the WFK2401UC and the WTL5400UC. They weren't cheap when we bought them, and now five years later, the washer motor gave out. Here's what the back of the washer looks like, with the motor already removed: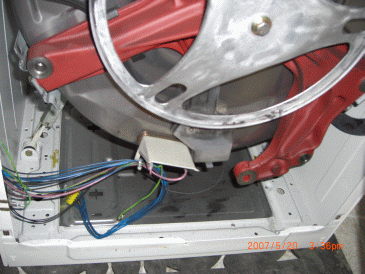 It fills with water and drains just fine–it just doesn't turn the drum and agitate. The drum rotates smoothly so the bearings don't appear to be worn. The belt is in good condition. My guess: the brushes on the motor are worn. Here's the motor before I started disassembling it: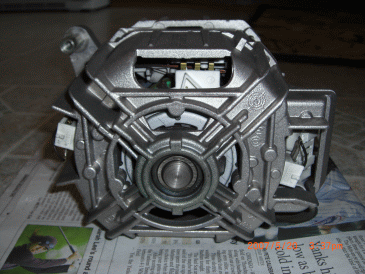 After carefully taking the motor assembly apart, I was able to get the carbon brush holders out. Taking the connecting lead off the cap and sliding the brush out, here's what one of my worn brushes looks like: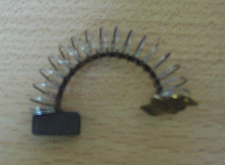 See that rectangular chunk on the left-hand side? That is what's left of the carbon brush–it starts out close to 1.5 inches long! From what I can tell, the measurements of the brush are 3/16″ (0.1875″) x 0.5 " x 1.5″.
Armed with this information in hand, I decided to source replacement parts locally. This was an exercise in failure: none of the appliance repair places have much in the way of Bosch replacement parts nearby. I also tried to get my hands on car alternator brushes which I'd have to cut and file to fit–no such luck. I even went to Carbone-Lorraine down in Boonton, NJ, to see if they had anything in stock that I could use as a start–they wanted to fabricate them for me, in two weeks. Defeated, I gave in and decided to get replacement parts from Bosch. Of course, I knew this meant paying a lot of money for what should be a $5 part.
After a little bit of searching around, I found Marcone Appliance Parts which had these parts in stock! As I expected, the price for a set of two carbon brushes was close to $30, instead of the $5 they ought to cost. But, it sure beats spending another $1,000-$1,500 on a new washer, right? So, I bit the bullet and placed an order which should hopefully arrive tomorrow or the next day.
In case you want to order them, here's the information you'll need:
If you need to order the whole motor assembly, you can get that too for just under $200:
If you're a proud (or perhaps disgruntled) owner of a Bosch WFK2401UC washer, and it's lost its magic smoke … perhaps this information will help you if you choose to repair it yourself–but if you do, remember to take all necessary precautions to ensure your safety, I'm not responsible for anything you do, etc., etc.
I'll post an update once I've received the new brushes and installed them. I'm hoping this is all that's wrong with the washer and we'll be back to doing laundry in no time.
Update: The new brushes arrived today, May 22nd, and I installed them and reassembled the motor. Here's a picture of the brand new brushes: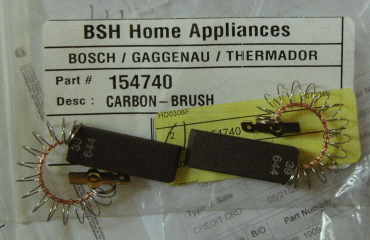 I had to experiment a bit with how the motor was mounted with respect to the belt tension, and it seemed to not be able to spin the motor at its full speed. I ended up removing the motor to inspect it and when I reinstalled it, I must have done something wrong because it made some really bad sounds and then shot an electrical arc which tripped the circuit breaker. I was afraid I'd let the magic smoke out of the appliance, but it seems to power up after resetting the breaker. I hope I can figure out why it's not working properly before I do completely destroy this machine. :-)
Update: Saul has kindly shared the PDF for the owner's manual (16.1 MB PDF) (mirror).
Update 2010-09-23: After much searching and not finding, I scanned the Use & Care Manual for the WTA3500 and WTL5400 electric dryers (1 MB PDF). I did find the installation guide (537 KB PDF) too, which I also uploaded.
Tags: Bosch WFK2401UC, washer, appliance, repair