I can't believe that I'm canceling my DreamHost account, just one month shy of my 10 year anniversary with them.

I first signed up for my DreamHost account back in January of 2006. For the most part, it's been a great experience. I originally signed up for the two-year plan for $214.80 ($8.95/month), and added VPS to my account in March 2009, for an additional $18/month.
I was okay spending the extra money in order to have a VPS that I had full control over. DreamHost even tweeted about offering root access with their VPS back in February 2011. It was definitely part of the attraction for many customers.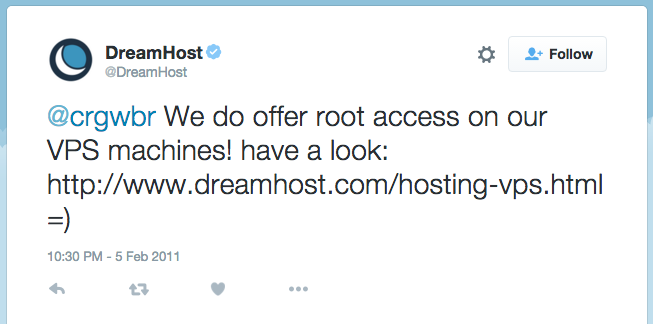 Then, on November 17, 2015, DreamHost sends out an email informing customers that in two weeks, they would be removing everyone's sudo (root) access, on November 30.
Wow. Just … wow.
What recourse did we have? Try and sign up for their DreamCompute offering, which is still in public beta, and there's now a wait-list to even get access to it?
Sell me a product, then take away a key feature but still charge the same price, while suggesting an upsell into a different product offering if I want to get that feature back? That's called bait-and-switch, and that borders on fraud.
This was the last straw. Several times in the past I've wanted to switch away but was too busy to really do it, but this forced my hand: I had to move away, and from the looks of it, I wasn't the only one.
I ended up moving my stuff over to Amazon AWS. It looks like it'll cost me around $10-12/month, netting me a savings of close to $15/month compared to the $26.95/month I was spending at DreamHost.
I'm relieved now that I've actually gotten around to moving everything off DreamHost. No more wondering if they're going to change their product offerings again. No more wondering if my sites are going to come back up when they're down.
Well, DreamHost, it's been nice knowin' ya, but I'm officially done. I suppose it was good while it lasted, but like many good things, this too had to come to an end.
Edited to add: And, the account is now fully closed.