As I try to get some work done waiting for car repairs, I discovered that the ETD on Route 23 in Kinnelon, NJ, has Optimum WiFi within range. Being a Optimum Online customer, I get free access to it.
My initial opinion of this particular hotspot is really unpredictable latency and packet loss. Speedtest.net results: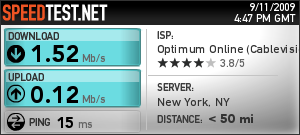 It's not bad – I'm posting this blog entry from the connection – but the latency and packet loss makes interactive sessions like SSH really painful. Still, it's usable to get some work done – email, web browsing, etc.
Tags: Optimum WiFi, Kinnelon, NJ