I wrote about my feelings towards the American reaction to Ahmadinejad's trip to New York City this week. Dave Winer wrote about the 60 Minutes interview by Scott Pelley and unless I'm misreading Dave, I think he and I might be in agreement about it.
One thing is clear from the interview: Ahmadinejad is far smarter than Pelley. After seeing this interview, I wouldn't be surprised if nobody accepts another interview request from him. His questions were just fishing for sound-bites. Where was the journalism?
The best part of Dave's reaction was captured in this Twitter update of his, though: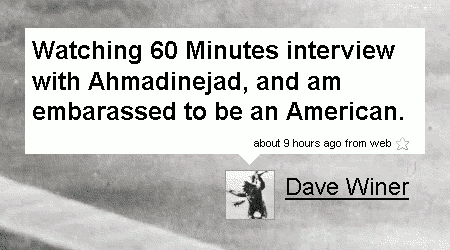 Dave, I totally feel you on this one.
Tags: Dave Winer, 60 Minutes, Scott Pelley, interview, Mahmoud Ahmadinejad, Iran, politics