If you read my blog in a feed reader, you probably never see my blog's display ads. But, a large majority of my blog's traffic comes from search engine referrals (thanks, Google/Yahoo!/Microsoft, etc.), who generally do see the ads.
One of the ad types I use is Amazon's Omakase Links (Omakase FAQ) in my 300×250 ad unit that's inline in the blog entry. See the highlighted area in the screenshot below: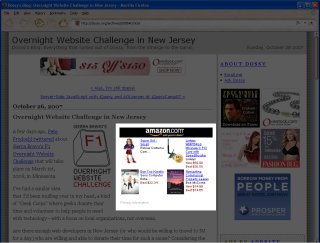 (click on image for full-size)
According to Amazon, the Omakase Links ad unit "uniquely [combines] information on each site visitor's taste, the site's content, and historical trends to dynamically generate relevant ads that Amazon serves to your site." In theory, this is great … serve more relevant product ads to a viewer in the hopes that you'll see a higher click-through rate and more conversions, everyone wins, right?
Well, I was surprised this evening when I was posting a new blog entry. I generally double-check them after posting and normally don't look at my own ads, but when the Omakase ad unit loaded I did a double-take. What are normally innocuous ads to product links that are pretty geeky, I was surprised when I saw the ad unit populated with sex toys: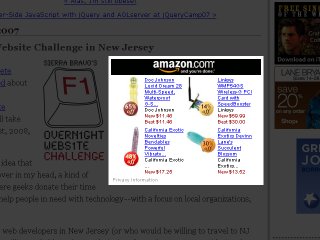 (click on image for full-size)
Okay, so I have blogged about Amazon.com selling anal douche years ago, and about how they expanded their offering into a full "Sex & Sensuality products" section, but is this why sex toys are showing up in my Omakase Links ad unit?
Don't get me wrong: I really don't mind. If these are the products Amazon.com thinks will sell the best in this ad unit and I get some referral commission off those sales and someone out there gets happy in bed, everyone wins, right?!
So, if you visit my blog instead of reading it through a feed reader and you don't block the ads, when an Amazon.com Omakase ad unit appears, what kind of products does it show you? Tell me in the comments below–it could be interesting to see the range of suggestions.
Tags: affiliate marketing, Amazon.com, Omakase, sex toys, funny