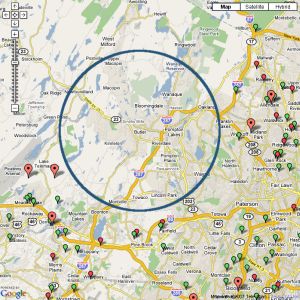 (click for full-size image)
DSLreports.com offers a neat view showing "actual" Verizon FiOS coverage using Google Maps. The screenshot above shows Butler, NJ (07405), which I drew a big blue ring that shows a total lack of FiOS coverage within a 12 mile radius around Butler.
Come on, Verizon … hurry up and roll out FiOS in Butler! I'm waiting!
Tags: Butler, NJ, Verizon FiOS