I finally got around to learning how to create a Debian package using the excellent Debian New Maintainers' Guide so that I could finally create Debian binaries for the character counting plugin for Pidgin that I whipped up last year.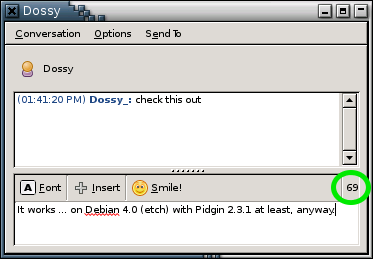 There's a screenshot of Pidgin 2.3.1 running on Debian 4.0 (etch) with the plugin loaded. You can download it here:
If you need to build the plugin for a different architecture (I only have i386 readily available to me), here's what I used to package this:
If anyone wants to take this and make an RPM out of it, that'd be nice. If you do, leave a link to it in the comments so others can find it. Thanks!