While I self-describe myself politically as centrist–financially conservative but socially liberal–I typically lean towards supporting Republicans over Democrats. However, I have to admit that an Obama/Biden victory sounds interesting. But, the novelty of a black senator and one with a sob story is going to wear thin when they accomplish nothing positive of note like every other recent President and Vice President, and we'll be stuck with them running the country. I will likely support them in the upcoming election, but before I do, I seriously need to find an answer to the question, "Can they possibly make things worse?" While it seems hard to believe they could, the only thing inifinte in this universe is stupidity.
On the subject of stupidity, I want to share this image with you: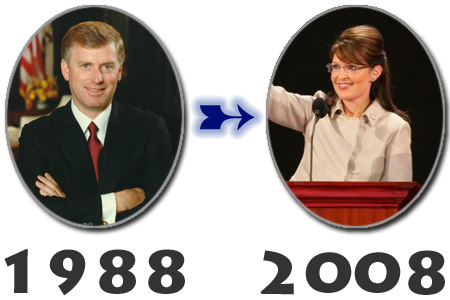 Clearly, McCain is taking a play straight out of Bush's playbook. Why?
Both are clearly underqualified for the position.
If elected, no one would want the President to pass away for fear of the ascension of the VP to that esteemed position.
They are both physically attractive.
Both say things that are inconceivably stupid.
I'm sure there are even more similarities that aren't even obvious yet, but if anyone doubts, just remember this worked back in 1988–just 20 short years ago. But, 20 years is a generation already; young, impressionable voters today are weren't alive when the Dan Quayle play was run (think about that for a moment) and are just as stupid as the Vice Presidential candidate presented so they can better relate, and they all like a pretty face.
Tags: Election 2008