One of the things that I do with my limited free time is sing in a Barbershop chorus, the Ridgewood Cavaliers of Harmony. I love a good harmony and a cappella music really brings that out.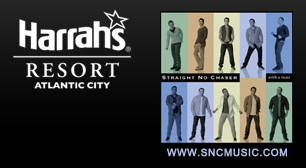 Last Friday, our friend Daniel Bauer treated Sam and me to the opening night of Straight No Chaser's new show "With A Twist" at Harrah's in Atlantic City.
While they don't sing Barbershop, they're an awesome a cappella group and seeing them perform live was just magical. They're performing here in New Jersey through August, so don't miss this opportunity if you're in the tri-state area.