I went through all the trouble of setting up a much improved email subscription for my blog using MailChimp almost 3 weeks ago, and of course I haven't even posted anything to the blog since! That means a bunch of you signed up to see what I'd done, and didn't get to see anything, yet. Sorry about that.
Personal Update
Despite the recent hurricane Irene, we spent a week up on Cape Cod, in Mashpee, for the week of August 27th through September 3rd. After dealing with very strong winds and a power outage for a few hours on Sunday, we all had a fantastic time and incredibly good weather. Here's a family photo we were able to take while we were out at a mini-golf place: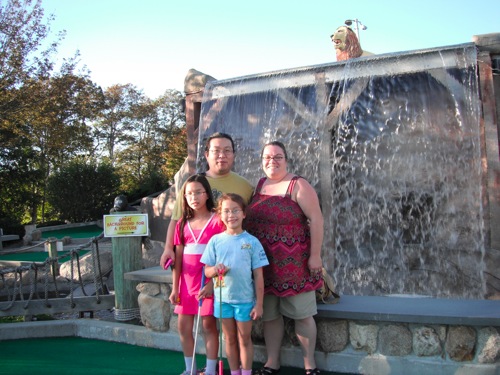 We're back home, the girls have started school again, and work has been keeping me particularly busy.
Work Update
At work, we've been testing a fully fault-tolerant design: redundant firewalls, redundant load balancers, a farm of web frontends and replicated database backends. We've done several load tests to verify that they'll be able to handle the volume of traffic that we get, with a fairly large multiple of our highest peak volume.
Tonight, we're deploying these servers. Even though I've done this many times over the course of my career, it's still exciting in its own way. Sometimes you have something unexpected happen that you have to deal with. However, when things just go smoothly, according to plan, like it did tonight … it's just a great feeling, watching everything just fall into place.
I hope everyone's had as best a week they can, given the circumstances–the flooding on the east coast, etc. I'll try to post updates more frequently. Oh, and if you have any comments or feedback about the new MailChimp-delivered blog email updates, definitely let me know! I really want to hear what everyone thinks of them. Thanks!