[ I originally wrote this as a comment on a friend's LJ in response to his reposting the below image, but wanted to also post the comment on my blog since it's a subject I feel strongly about. ]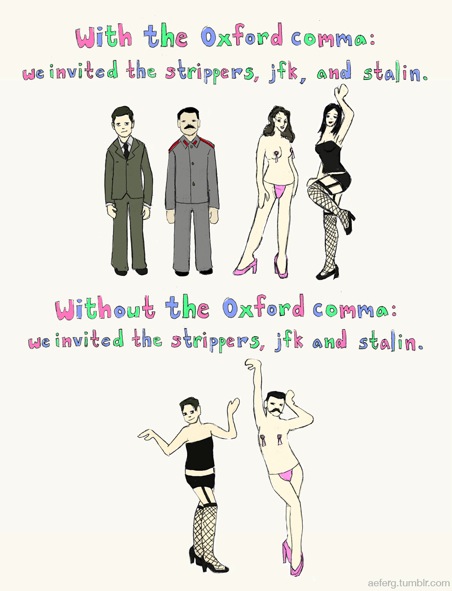 I personally, dislike, the Oxford comma, and, prefer, the Shatner comma.
:-)
Seriously, though, most of the examples folks use when illustrating the value of "the Oxford comma" follows this pattern:
"… Noun, ProperNoun and ProperNoun."
In this specific case, I agree, the series (Oxford) comma is necessary. However, if the last three of the list elements are proper nouns, it's not necessary:
"I went to England, Spain and France."
Or, if none of the last three elements in the list are proper nouns:
"At the grocery store, please buy carrots, mangos and limes."
What's worse is when folks use the serial (Oxford) comma before a conjunction when NOT enumerating a list, like:
"I went to the store, and bought a book." FUCK NO WRONG WRONG WRONG. This is NOT an Oxford comma, it's called WRONG WRONGITY WRONG WRONG.
*neck-twitch*