So, I was in the local supermarket the other day and my spouse, who knows how much I love teh funny, picks up a can and goes, "Here, you'll like this." This is what she hands me: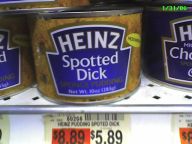 I quickly put it back on the shelf, whipped out my camera phone, and took a quick snap.
Yes, that does say "Spotted Dick." It's a can of Heinz Spotted Dick Sponge Pudding. Those are just five words that don't belong in a sentence with that kind of proximity. Apparently people eat Dick and like it, when it's Spotted. Ahh, those strange Brits are just so queer.
UPDATE 2006-06-13: My friend Kevin shares some cock flavoured soup mix. Superb!