Friday night, my family and my long-time friend Ian went for an overnight camping trip in Harriman State Park, at the Bald Rocks shelter off the red trail on Black Rock Mountain.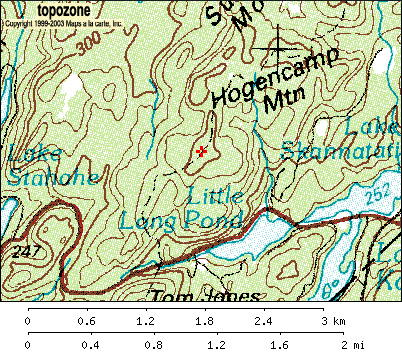 (Topographic map of Harriman State Park, Black Rock Mountain, Bald Rocks via Topozone.com)
It's roughly a one-mile hike from the parking area and takes you up and down some fun terrain. The wild blueberries are all over the place and the kids had great fun picking and eating a few on our hike out.
One thing that really saddens me is the amount of litter at the shelter, especially the broken glass beer bottles! Of course alcohol isn't permitted on the trails but some irresponsible people think it's fun to party in the woods, but at least they could show some appreciation by abiding by the "carry in, carry out" rule.
We did our best to clean up the area with some hand-crafted tall grass brooms we made to sweep out the shelter and tried to gather all the larger pieces of broken glass we could, but let this be a plea to all of you out there: please try to leave the campsite cleaner than when you got there. If we each do a little bit, everyone benefits a great deal.
Trust me, I understand and appreciate why these places are such fantastic areas to party and have fun but it won't be for long if we don't take care of them.
Tags: New Jersey, New York, Harriman State Park, Black Rock Mountain, hiking, camping, outdoors