My little blog doesn't get too much traffic–on average, around 150-200 unique visitors a day. I have some 140 subscribers to my RSS feed, but almost 80% of my traffic comes through search engines. I haven't implemented item view tracking in my RSS feed yet, so I have no idea what percentage of my subscribers actually read my feed.
Two days ago, I wrote a political rant and submitted it to StumbleUpon to draw some traffic to it, hopefully to get some responses. I knew that SU was good for a bunch of drive-by viewers, but I'm surprised by how many: almost 1,400 more than usual. Check out the graph: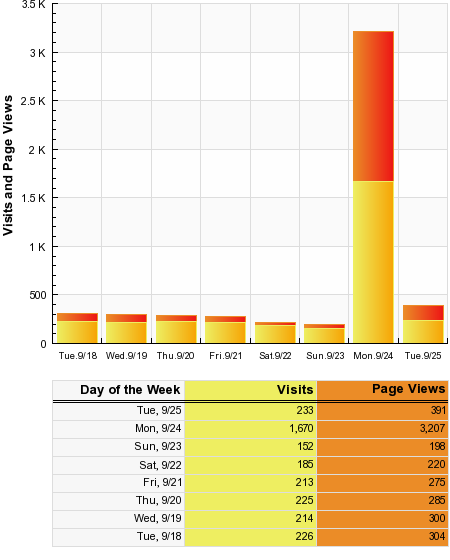 That's a serious spike. There's still bits and bobs of traffic dribbling in, even today. However, I noticed a few things:
Only 5 out of the 7 comments I actually did get were from people I didn't already know, which I'm guessing arrived via SU. This is a remarkably low percentage of overall visitors.
Someone else eventually submitted a link to my entry to Digg, which brought a lot less traffic than I would have expected.
Although my few CPM ads might have gotten a small bump, my CPC ads CTR was zero. The extra traffic did not convert into extra revenue, at all.
According to FeedBurner, I may have picked up 9 new subscribers. That's only 0.5% of the new visitors.
Now, I'm not surprised by this–it actually confirms suspicions I've held for a while now. But, as I'm thinking of reworking my blog layout and design, it's always good to get real data as a baseline before I start making changes.
Tags: blogging, analytics, traffic, StumbleUpon