All it took was this unpopular post, and I lost half of my feed subscribers, going from around 180 down to 90 …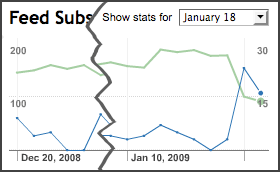 The irony is, it was probably the most active post on my blog for quite a long time, gathering a lot of interesting comments from several different people.
I guess the typical blogger would be devastated by losing half his audience in one day, but the sad truth of my blog is that most of my traffic comes from search engine referrals. While it makes me sad to see them go, if it was so easy to unsubscribe after one post, I wonder how much value they were getting out of my blog in the first place.
I guess this is one way to start off blogging in 2009 with a bang, huh?
Tags: meta, blogging, subscribers, fail