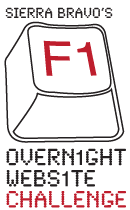 A few days ago, Pete Prodoehl twittered about Sierra Bravo's F1 Overnight Website Challenge that will take place on March 1st, 2008, in Minnesota.
I've had a similar idea that I'd been mulling over in my head, a kind of "Geek Corps" where geeks donate their time and volunteer to help people in need with technology–with a focus on local organizations, not overseas.
Are there enough web developers in New Jersey (or who would be willing to travel to NJ for a day) who are willing and able to donate their time for such a cause? Considering the trouble I've had finding geeks in Northern NJ, I really don't know.
I'm sure there's plenty of non-profit organizations who could use the help, but I don't have a good idea of who they are or how to reach out to them. If you are part of or know of a non-profit that would benefit from participating in such a competition, in New Jersey, I'd appreciate it if you'd pass along a link to this blog entry to them.
At this point, I'd love to hear from anyone who is interested in a similar event as the Overnight Website Challenge, but in New Jersey. I would be especially grateful for any help in organizing such an event or spreading the word about it.